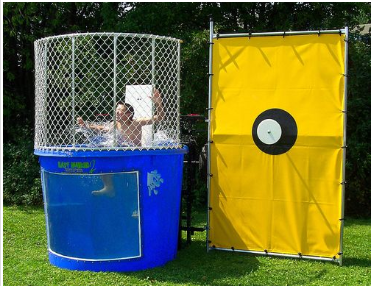 Dunk Tank




Please call to reserve this item.

A dunk tank rental (also known as a dunking booth) is a great way for people to blow off steam by dunking the boss, the principal, mayor, or the local "celebrity" at fundraisers, fairs, festivals, school events, and company picnics. It's become somewhat of a tradition, and can be a great way to raise money or just attract a lot of people to your event. The more popular the person being dunked is, the more people will want to line up for a try at dunking them!
The dunk tank is always a hit for its classic carnival feel to dunk the lucky person by throwing the balls for a chance to hit the bullseye. Features a metal safety fence to keep every one safe from flying balls going towards the bullseye. The tank has a plexiglass window so you can see the big splash above and below the water line. Unit is dark blue with a yellow background to allow for a friendly and colorful scheme for any party theme. Rental includes balls and professional setup.
If you need a dunk tank rental an event in Richmond, VA or surrounding areas, look no further than Jump and Play RVA!
When the event is over, simply open the drain valve and walk away. Our crew will come back after the water has drained to pick it up.

NOTE: You need to ensure you can provide 500 gallons of water on the day of delivery.